Do you walk away from meetings feeling as though your people have provided excellent input and innovative solutions for dealing with the issue at hand?
If not, you may be violating three essential rules for leading productive meetings.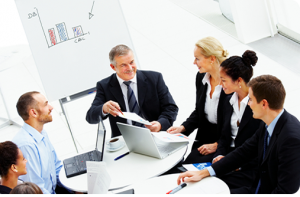 I recently had lunch with one of my mentors and business colleagues, Dr. Ted Prince, founder and CEO of the prestigious Perth Leadership Institute. As a trainer for the Perth Leadership Institute, I always welcome the opportunity to have one-on-one time with Dr. Prince because I usually walk away with some new gem of insight that helps me to be a better trainer and/or to be a better leader.
This recent lunch was no exception. Although at Perth we are focused very intently on helping leaders improve their direct impacts on gross margin and expenses, Dr. Prince spent 20 years leading numerous companies, including a publicly traded company, as a CEO or as a board member, so he also has a lot of wisdom regarding how to deal with people.
During our lunch, the topic of listening came up, which reminded him of three essential rules for running productive meetings, which he had recently taught to some executives he was coaching.
The three rules for leaders to follow if we want to have the most productive meetings are:
Speak last
Speak less than 10% of the time
Don't offer opinions

Speak Last

As leaders, many of us often think that we're supposed to be the one with all the great ideas. But great leaders know that to be most effective we need to surround ourselves with people that are smarter than us (which is pretty easy for me) and find ways to get them sharing ideas as frequently as possible. Speaking last is a great way to make sure this happens. When we speak first, we can create unconscious boxes that people might not feel safe deviating from. By making the effort to get our people talking before we share any of our own thoughts, we ensure that we have the best chance of getting fresh new ideas that we might have never heard if we shared our ideas first.
Speak Less than 10% of the Time

When we do speak, it should be at most 10% of the time, and primarily to ask questions of our people. We already know what we think about the topic. The only way we'll discover solutions that are potentially better than the ones we have is to get our people talking as much as possible. In this way, they are likely to either create a solution or provide some new way of looking at an issue that allows us to arrive at a solution that we never would have seen had we tried to do it all on our own.
Don't Offer Opinions
Our goal should be to create an environment where people feel really safe to share whatever ideas they have. The moment we start offering opinions about the topic in general or, worse, an idea shared by our people, we increase the level of fear people will have about sharing their ideas, and decrease the likelihood that we will get truly innovative solutions from our people.
Do you follow a version of these three rules when you lead meetings with your people?
Did you like this post? To receive The Ultimate Leaders E-Zine for FREE, just Click Here. It includes all my blog posts, interviews with great leaders, and other resources to help you become the Ultimate Leader.