A Review of The Referral Engine, By John Jantsch
How to get more referrals and word-of-mouth exposure for your organization.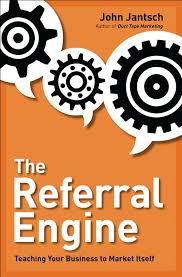 I put it off because I didn't see how it would help me to help my audience improve their leadership skills. I finally decided to read it just for me, because it seemed like a good tool for helping me to expand my potential for serving.
This book was fantastic!
Both the quality and the quantity of the guidance offered by John Jantsch in this book are incredible. I have not taken so many notes while reading a book in a long time. The only problem is that there are so many ideas I want to implement, I'm having to create a plan for gradual implementation to ensure I eventually get to them all.
As it turns out, the book is also a great resource for any type of leader.
You'll find ideas for making systemic changes in how you serve your customers or members, including ideas for creating happier customers by helping employees to be happier, which is perfectly in line with my mission
You'll learn how to create a system for generating more referrals and word-of-mouth exposure
You'll also find more tactical ideas than you could probably ever implement for building a so-called "referral engine"
I highly recommend this book to any leader. I also highly recommend that you take lots of notes and be prepared to do some work that could transform your business.
What could more referrals and word-of-mouth exposure do for your organization?
Just

CLICK HERE

, and I'll send you this eBook, featuring chapters from John Spence, Jeff Klein, Charlie Kim, Michael Carroll, Ted Prince, David Marquet, and Ben Lichtenwalner.