Simple Tools Applied at HopeLab That Can Help Your Organization to Be More Innovative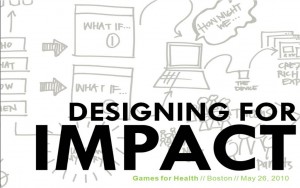 Chris Marcell Murchison guides HopeLab's efforts to create an organizational culture that values learning and innovation. In his 25-year career in the public and private sectors, Chris has focused on staff and organization development. Prior to joining HopeLab, he was with Charles Schwab Corporation in San Francisco, where he was Director of Talent Management and Development after first serving as Senior Manager, Schwab Technology Education, overseeing the development of career development and management development programs.
I recently had the pleasure of interviewing Chris, which you can enjoy as well:
Chris, for those of our readers who have never of heard of HopeLab, could you tell us a little about some of the innovative projects that HopeLab has created?
At HopeLab, we often say we're harnessing the power and appeal of technology to improve human health and well-being. We use a research-based, customer-focused approach to creating products that are both fun and effective.
Two of our best-known products are Re-Mission and Zamzee. The Re-Mission games are designed to support young cancer patients as they fight their disease. In fact, our research indicates that playing Re-Mission motivates young cancer patients to stick to their medications more consistently, which is a critical part of successful cancer treatment. Our Zamzee product combines an activity meter and a motivational website to inspire tweens to move more. Our research on the Zamzee experience, from a 6-month study, indicated that use of the product can increase physical activity as much as 59%!
A hallmark of HopeLab's work is the extensive research we do during product development. We engage our end users directly in the development processes and make every effort to ensure that the products we produce will have meaningful impact on health and well-being. HopeLab's future work will focus on how we can leverage what we've learned about motivating healthy behavior to support human resilience. Resilience is actually a great umbrella for all the work we have done to date and I am excited to see what our next big idea will be!
As the VP of staff development and culture, you are responsible for creating a culture that is highly conducive to innovation. Would you share the top three strategies and/or tactics that you employ to make this happen?
Culture is influenced by so many things – values, leadership, relationships, HR policies, etc. We have experimented with all of these and more at HopeLab. Today, I would say that the three most highly leveraged tactics are the following:
Build the skills and systems to support high quality conversations in the organization – conversations typified by curiosity, authenticity and integrity
Create an environment in which employees believe they are accountable for the whole of the organization and its success, where they take 100% responsibility for their experience in the organization
Create work processes and systems that allow individuals and the organization as a whole to experience progress towards meaningful goals
My opinions here are influenced by my experience nurturing culture at HopeLab and my exposure to a wide variety of innovative organizational development and leadership practices. I believe making an intentional investment in building your organization's culture can enhance your ability to do innovative work and make a positive impact in the world, for your employees and the people your business serves. I continue to learn about the many dimensions of culture every day. As my exposure to other organizations and cultures expands, I am certain my thinking about culture will evolve. I see this as good, because every work community is different and, as a result, there are different levers for catalyzing a thriving culture.
You do a lot to support your people's well-being. Why do you think it's so essential for innovation that leaders show their people that they truly care about them, and follow through to ensure that their people actually experience high levels of well-being?
We have a great wellness program at HopeLab. We call it HOGS, which stands for Health and Other Good Stuff, and it is based on the concept of energy management. If we are investing wisely in our physical, emotional, mental and spiritual energy, we are more likely to be purposeful and energized humans. And if as individuals we are engaged energetically, we can collectively create an engaged workplace that has greater potential to accomplish great things!
Additionally, at the core of well-being is resilience – the ability for individuals and organizations to respond positively in the face of change and adversity. The science informing our R&D work indicates that, as humans, cultivating a sense of purpose, connection and control can help us tap into our innate resilience. I think these are powerful insights that can be directly applied to individuals in the workplace. Adversity can take on many forms at work, large and small. A culture that supports employee's sense of meaning and purpose, helps them connect meaningfully with colleagues, and creates processes where employees have a sense of control and accountability are likely to support well-being as well as enhancing resilience in the face of challenges. And, again, if your employees are engaged, well and resilient, your workplace will be more likely to thrive and innovate.
Not all organizations have access to the levels of funding to which HopeLab has access. What are some low-cost ideas that a leader could apply to show her people she truly cares about them?Culture work does not have to cost anything at all. Ultimately, building an organizational culture is building a community of people. This means attending to how we interact with one another and the quality of our relationships. Investing time and energy at that level, versus dollars, can have a real impact on productivity and job satisfaction.
What does investing in relationships look like? It means making time to authentically connect with others, having quality conversations (in supervision, performance reviews, team meetings, etc.), inviting and offering feedback, listening well, having fun together, participating in meaningful experiences together, and more. In these interactions, so much can be gained from kindness, appreciation, openness, and support – all actions that don't have to cost anything but your time and attention. I am struck by impact of a simple "good morning" or an expression of true caring. An organization devoid of these basic virtues is, in my opinion, not sustainable.
Just

CLICK HERE

, and I'll send you this eBook, featuring chapters from John Spence, Jeff Klein, Charlie Kim, Michael Carroll, Ted Prince, David Marquet, and Ben Lichtenwalner.