A Review of Platform, By Michael Hyatt
A great guide to building a large online following by integrating blogging and social media.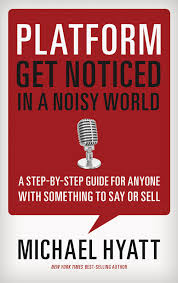 I just finished reading an excellent book by Michael Hyatt, called Platform: Get Noticed In a Noisy World.
I had a hard time putting this one down. It is a must read for anyone who would like to increase the size their online following.
Michael is clearly an expert on building a platform. Over 330,000 people are subscribed to his blog,
MichaelHyatt.com
, and he has over 190,000 twitter followers.
Why is this important?
If you run a business or a non-profit, having a large platform is a more effective tool for marketing than traditional advertising unless you have a lot of money to spend on large campaigns. A platform allows you to generate lots of word-of-mouth exposure that people trust a lot more than they do paid advertising.
If you'd like to publish a nonfiction book, the first thing publishers look at is the size of your platform. Case in point, I actually have a tentative book deal with one of the largest publishers in the world. They learned about my book idea, which they love, as a result of a personal introduction from one of their authors. But I won't actually have a contract with them until I grow my platform a bit more.
If you'd like to share your ideas as a speaker, having a large platform means that instead of having to spend a lot of time and money on marketing, people will contact you.
Platform is a well-written book that is easy to read. I finished it in a few hours. In the book, Michael offers a complete, step-by-step guide to building your platform. You'll find at least an introduction to every aspect of growing an online following in this book, as well as lots of great resources for going deeper into the more complex elements of building an online following that are beyond the scope of the book.
What could having a large online following do for you?
Just

CLICK HERE

, and I'll send you this eBook, featuring chapters from John Spence, Jeff Klein, Charlie Kim, Michael Carroll, Ted Prince, David Marquet, and Ben Lichtenwalner.