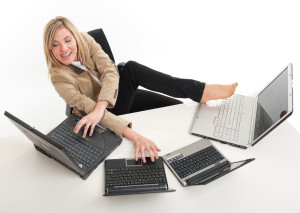 Some of the least productive people I've ever seen also seem to be the busiest.
They work long hours, often juggling multiple activities – such as eating lunch, reading e-mails, and listening to music – all at once.
I believe people do this because they have been fooled by the common misconception that the ability to "multi-task" is one that is highly valued and should be developed.
I wrote "multi-task" in quotes because the brain is actually not even capable of performing two cognitive functions at the exact same moment in time.  What we're actually doing when we're "multi-tasking" is switching rapidly between tasks.
Contrary to popular myth, this rapid switching between tasks that we tend to brag about as "multi-tasking" is extremely detrimental to performance and productivity.
As Dr. Susan Weinschenk explains in an article she wrote for Psychology Today,
"Task switching is 'expensive…'
Here's what we know from the research:
It takes more time to get tasks completed if you switch between them than if you do them one at a time.
You make more errors when you switch than if you do one task at a time.
If the tasks are complex then these time and error penalties increase.
Each task switch might waste only 1/10th of a second, but if you do a lot of switching in a day it can add up to a loss of 40% of your productivity."
"Multi-tasking" is such a bad habit, in fact, that the more often we do it, the worse we get at it.  This means we won't be as effective at handling multiple tasks at once when life dictates that we need to do that.  We'd be much better off if we practice mono-tasking as the rule, and only "multi-task" when we absolutely have to.
Doing one thing at a time and doing it well – mono-tasking – helps us to improve our own output, and it is also a simple yet powerful way to better serve our team members.
By taking time to focus on the most important tasks, we get them done more quickly and we do them better, which is an indirect way of serving team members.
Mono-tasking also helps us to be less anxious.  When we're less anxious, we are much better able to create a positive emotional climate for our team.
When mono-tasking becomes more of a habit, we also listen much better to others.  When someone is speaking to us, we're better able to put down our smartphones, turn away from our computers, and give our full, undivided attention to the person who is speaking to us.
I humbly suggest that we all make it a practice to do one thing at a time, do it mindfully, and do it well.
Please leave me a comment below if you apply these ideas.  I'd love to hear about your experience.
______
Did you like what you read?
You can sign up here to get all my posts via our free eZine, which is full of great articles on personal and leadership development.
You'll also get a $15 eBook for free.