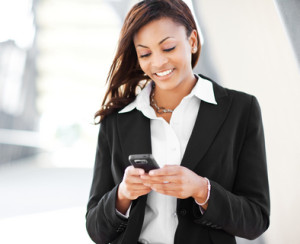 Recently, I spoke for the Tennessee Society of Association Executives at a hotel and conference center outside of Nashville, TN.  The evening before the day I would present, I took a walk around the property to scope out the room where I would deliver the keynote.
As I walked back to my hotel room, a staff member of the hotel came out of an office and walked toward me.
She almost looked at me, but didn't.  She sort of smiled – that rather fake kind of smile – then stared intently at the ground as she walked and did her best to communicate non-verbally that she was thinking of something very important and she was not to be bothered.
Have you ever walked by someone like that?  They make it clear that they know you're there, but they don't make eye contact and make it clear they want to avoid interacting.
How did that make you feel?
In the case of the hotel staff member, I immediately thought, "This woman is in the wrong industry."  That kind of avoidance sends the message to guests that they aren't that important.  Whatever she was thinking about was more important than the guests.
Conversely, in hotels with excellent service, everyone makes it clear that the guests are more important than anything else.  Everyone makes eye contact and offers to be of help in some way.
I think there's a great takeaway here for leaders, whether we have a title or not.
When we're walking around the workplace, we always have a choice.  We could be texting like the woman in the image above.  We could keep our heads down and think a lot, like the hotel staff member I described above.
The better choice is to just walk – to be fully present with act of walking – and to be open to connecting with anyone we walk by.  We can think or text later, when we are alone.
There are many benefits to this, including the following:
1.  Walking becomes a chance for us get out of our heads a bit and unwind any anxiety that has been building up. When we're aware of our bodies and the fact that we're walking, we might notice that we're tense or anxious.  This awareness helps us let it go.  Thus, we go into our next task or interaction with a better emotional state and a better chance for a positive outcome.
2.  We get a better pulse of what's happening around us. This can range from the very obvious – where things are that we should avoid bumping into – to the very subtle, but also important – the emotional climate of the workplace.  If the emotional climate of the workplace is not positive, we should look into what's going on and how we can help.
3.  By keeping our head up while we walk, open to connecting with those we pass by, we have the ability to make eye contact with people and offer a smile. If we consistently share heartfelt, genuine smiles with people, it can go a long way to improving a workplace culture.
4.  We can also notice the emotional state of individual people and take a moment to connect with someone who appears to be experiencing a negative emotion like anxiety, or sadness. This simple connection shows people we truly care about them, and can help them to both enjoy their day more fully and also be more productive.
I have three suggestions for improving your ability to have a positive connection with team members as a result of more consistently keeping your head up and being open while walking.
1.  Before walking anywhere, take a moment to pause a commit to being fully present while you walk without texting, reading, or allowing yourself to be pulled into distraction by thinking.
2.  Look at people you pass by – whether they're looking at you or not – with an attitude of kindness and helpfulness.
3.  If you feel compelled to go back to thinking or texting while walking, or if you get distracted, gently remind yourself to start over with steps 1 and 2.
Please leave me a comment below if you apply these ideas.  I'd love to hear about your experience.
______
Did you like what you read?  You can sign up here to get all my posts via our free eZine, which is full of great articles on personal and leadership development.  You'll also get a $15 eBook for free.
Image credit – http://yumurtaliekmek.com/cep-telefonu-mu-bilgisayar-mi/