100% of the author proceeds from the sale of this book are donated to charity.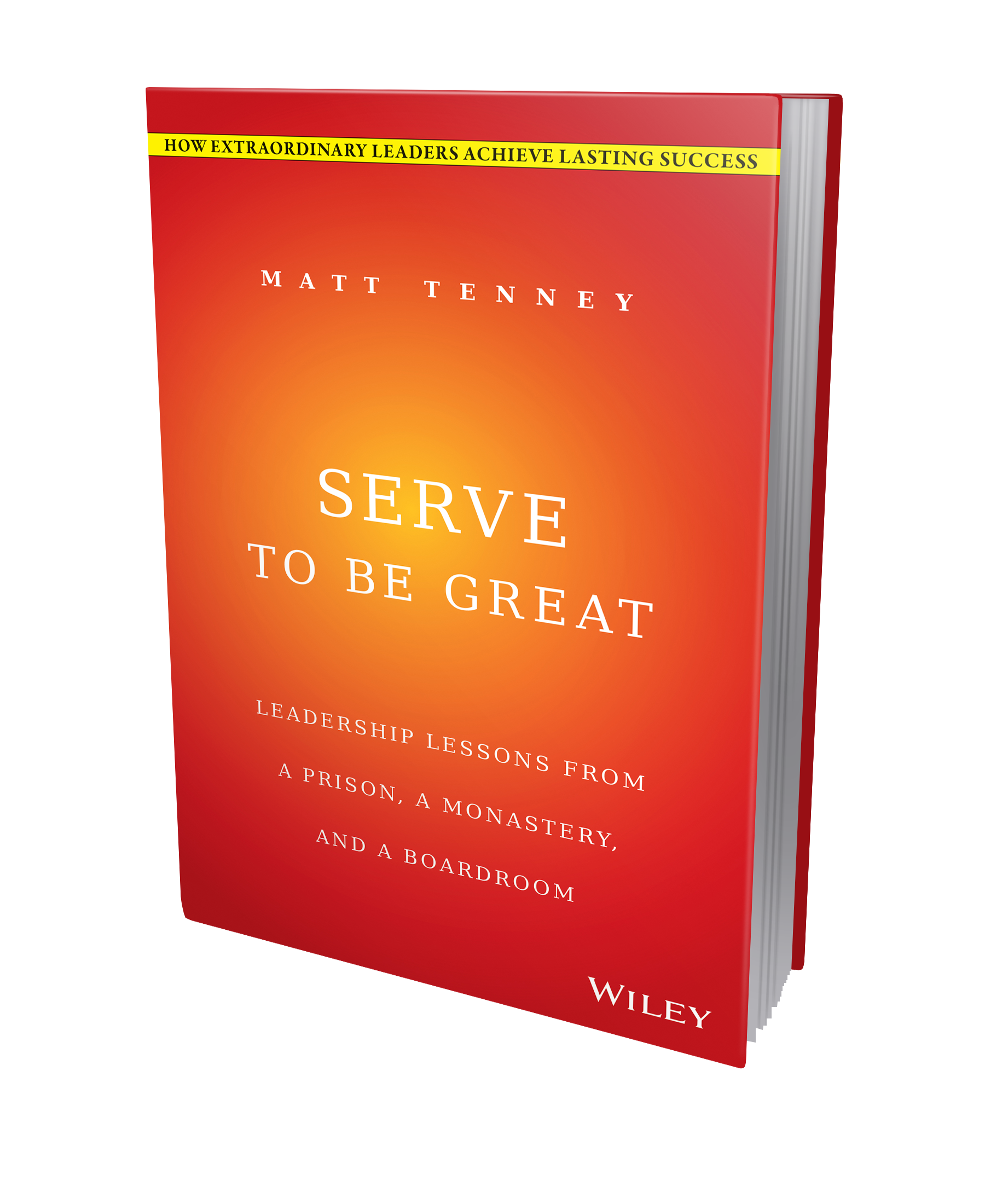 Book Overview
Do you aspire to be a more effective leader who guides your team or organization to higher levels of lasting success? Would you like to look forward to each day and know that you are having a positive impact on the world around you?
This is possible for everyone, regardless of your title or position. In fact, Serve to Be Great: Leadership Lessons from a Prison, a Monastery, and a Boardroom will train you to make this a reality. Although it's not an easy process, it is a worthwhile one.
By making a shift in your approach to leadership, you can become a highly effective leader who enjoys your work and makes the world a better place. The shift is simply a matter of gradually becoming more focused on how you can serve others and increase your capacity to do so.
Matt Tenney introduces us to the principles in this book through the story of going from selfish to servant while on his journey from prisoner to monk to social entrepreneur. He then cites numerous business case studies and research that demonstrate how putting serving first results in:
Attracting top talent
Increased engagement and lower turnover
A more innovative team culture
Better customer service
A better ROI on marketing efforts
The book also offers practical, actionable guidance for making the shift to becoming an extraordinary leader who is devoted to serving and inspiring greatness in others.
Praise for Serve to Be Great
"Matt Tenney has a clarity about the world that is remarkable. His experience and the lessons he learned need to be heard by as many people as possible."
Simon Sinek – Optimist and author of Start With Why and Leaders Eat Last
"Serve to Be Great draws you in with one of the most powerful stories you'll ever hear and offers an inspiring path to true greatness as a leader. I encourage anyone who wants to be great to read this book."
Jon Gordon – Best-selling author of The Energy Bus, The Carpenter, and The Seed
"Serve to be Great is an engaging book about the power of focusing on others.  With a gripping narrative about his journey from prisoner to monk to social entrepreneur, Matt Tenney shows how leaders can elevate those around them and make everyone better off in the process."
Adam Grant – Wharton professor and bestselling author of Give and Take
"I love a true story of redemption and Matt Tenney shares a powerful one in this book. He transformed a massive mistake into a magnificent obsession with servant leadership. Learn how you can be of greater service and make a bigger difference as a leader whether you have a title or not — read this book."
Mark Sanborn – Bestselling author of The Fred Factor and You Don't Need a Title to Be a Leader
"Serve to Be Great is one of those rare books that is an enjoyable and inspiring read, and also quite useful for helping you and your team succeed.  Applying the ideas in this book will help you and those around you to achieve better long-term results, and make your lives more meaningful and enjoyable along the way."
Chip Conley – Founder and Former CEO of Joie de Vivre Hotels and New York Times bestselling author of Peak and Emotional Equations
"Serve to Be Great provides you with powerful tools for becoming an extraordinary leader who gets results and makes our world a better place.  This inspiring book is a must-read for leaders at all levels."
Chade-Meng Tan – Jolly Good Fellow of Google, and New York Times bestselling author of Search Inside Yourself
"Serve to Be Great is both inspiring and practical. Matt Tenney delivers a powerful narrative that takes you on an incredible journey.  The insights from that journey and the examples he shares of truly great leaders will improve your performance, widen your perspective, and raise your leadership game."
Skip Prichard – CEO of OCLC and blogger at www.SkipPrichard.com
"This is an outstanding book full of truly powerful ideas, tools, stories and advice. I strongly recommend you read and apply the lessons of Serve to Be Great because in today's business world ONLY those who are who are devoted to serving and inspiring greatness in others will be successful as leaders."
John Spence – named one of the Top 100 Business Thought Leaders in America by Trust Across America and author of Awesomely Simple
"In Serve to Be Great, Matt Tenney courageously reveals his journey from being self-serving to serving others, and lays out a world of infinite possibilities that awaits the servant leader. In addition to his own story, Matt shares illuminating stories and lessons from many great leaders and their organizations in his inspiring and useful book."
Jeff Klein – Producer of Conscious Capitalism events and author of the award-winning book Working For Good
"In a mere four words, Matt Tenney lays down the clearest guidance to anyone seeking to excel as a workplace leader: Serve To Be Great.  Matt's lived an untraditional life — and brings forth untraditional wisdom that's perfectly timed.  Instead of taking as much as we can from employees, it's time to do as much as we can for them."
Mark C. Crowley – Change agent and author of Lead From The Heart: Transformational Leadership For The 21st Century
"Serve to Be Great brings a simple yet profound truth brilliantly alive: Great leaders inspire the best in others and all of us can do this anywhere, anytime. The moving stories and the ideas Tenney shares provide both the inspiration and the tools to help you become an extraordinary leader."
Michael Carroll – Author of The Mindful Leader and Fearless at Work
"In Serve to Be Great Matt Tenney reveals his greatest failure and how he was able to turn it into something great and beautiful. This book is engaging and inspiring, and it will help you become a great leader regardless of your current position in life."
Ted Prince – Founder and CEO of the Perth Leadership Institute and author of The Three Financial Styles of Very Successful Leaders
"In Serve to be Great Matt Tenney invited us into his personal journey of transformation—one in which he found value for our workplaces. Tenney leaves little doubt that when we embrace the notion that 'others' matter, we set in place a chain reaction for good. He has provided us a new set of lenses to view old challenges and new opportunities."
Clifton L. Taulbert –  Author of Eight Habits of the Heart
"Serve to Be Great will expand your thinking about leadership.  Matt Tenney provides powerful case studies and practical advice about what it takes to be a highly effective leader today."
Dan Black – author of The Leadership Mandate and blogger at danblackonleadership.com
"There's so much to enjoy about this book.  With inspiring examples and guidance, Matt reminds us that every moment matters, and that choosing to serve others in these moments is an act that not only makes our work more meaningful but also produces awesome outcomes."
Chris Marcell Murchison – Vice President for Staff Development and Culture, HopeLab
"Matt Tenney's story of temptation, self-discovery, and rejuvenation will uplift your heart and renew your faith in humanity."
David Marquet – Author of Turn the Ship Around!