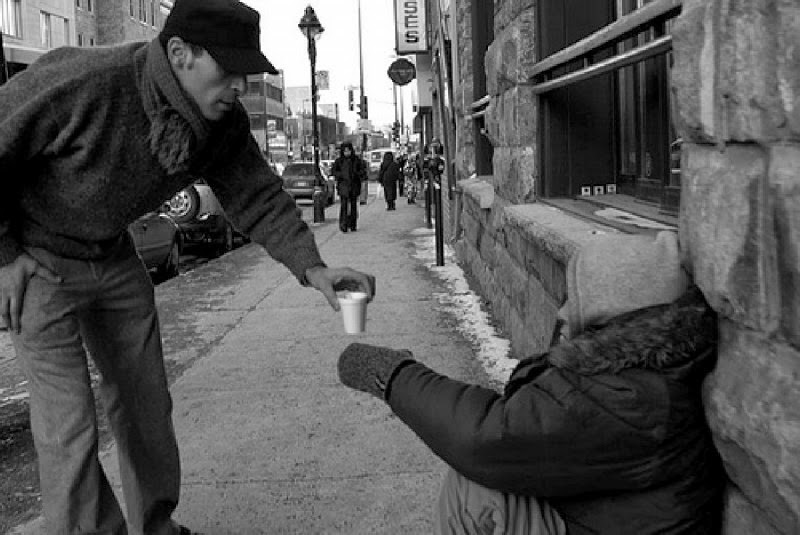 Some time ago, I had a layover in the Charlotte airport on my way back to Gainesville. It was lunchtime and I hadn't eaten since the night before, so I decided to have some pizza and veggies while on my long layover.
As I approached the restaurant, I was greeted by a very nice, middle-aged Indian woman with a wonderful smile, standing behind the glass case holding the food, and just barely able to see over the top of it.
We had a very pleasant interaction for 20-30 seconds before I got to the business of selecting the pizza I would eat.
I ended up sitting down at a table that allowed me to watch people approach her and order. What I saw made me a little sad.
I noticed that each person in the first six groups of people who approached her interacted with her in the exact same way. They made no eye contact with her.
When she asked how they were doing, they either didn't answer at all, or just replied "OK" and immediately placed their order, without asking her how she was doing or even making eye contact.
I feel pretty confident in predicting that none of these people are very happy or successful.
Finally, a well-dressed young man arrived who looked like he was in a bit of a hurry. Nevertheless, he looked the woman in the eyes, asked her how she was doing, and had a nice interaction with her for 15-20 seconds or so before placing his order.
I feel pretty confident in predicting that this young man is quite successful and happy.
If there is one key determining factor for success in life, no matter how we define success, I believe it is the ability to connect with other people in a way that results in a positive interaction. Not only is having this ability essential for financial success, it is central to living a deeply fulfilling and happy life.
The most successful people are the ones who can most consistently connect with people in positive, mutually helpful ways.
Napoleon Hill, who studied thousands of the most successful people in the world over a period of 20 years while working with Andrew Carnegie to produce the masterwork The Law of Success, often pointed out the absolute necessity for being able to consistently have positive, cooperative interactions with others.
There is a passage in Law of Success where he pointed out how 9 out of 10 people he interviewed, who reported not being successful or happy, stated that the reason for their failure was that "opportunities just didn't seem to come their way".
Hill then wrote that he is absolutely certain that if he were to observe these people for a day, he could point out numerous opportunities that they missed simply because of the negative interactions they had with people.
How valuable is positive human connection? I would say it's priceless. But here's a short story illustrating how it's worth at least $1 billion.
Many years ago, an athletic, "popular" young man we'll call Andrew, worked at a movie theater with a young man we'll call Steven who, self admittedly was a little quirky and "nerdy". Despite their differences in levels of "coolness", Andrew treated Steven with a lot of respect, and they ended up developing a strong relationship.
Some years later, Steven was working at the local utility company in a position of influence. Andrew applied for a position there, and Steven, remembering what solid character Andrew had, helped him get it.
A few years after that, the two started an energy marketing company based on the experience they gained at the utility company, which now employs around 400 people, generates about $1 billion/year in revenue, and made them both multi-millionaires.
Please, make it a habit to leave each person – even the woman taking your order at an airport restaurant – a little better off than you find them, even if you're not feeling up to it.
CLICK HERE
to learn more about the eBook, featuring chapters from John Spence, Jeff Klein, Charlie Kim, Michael Carroll, Ted Prince, David Marquet, and Ben Lichtenwalner.