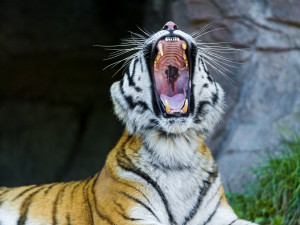 As leaders, whether or not we have titles, we affect the emotional states of the people around us.  An important way to serve team members is to consistently project positive emotions and thereby help others consistently register more positive emotions.
A very easy way to help improve our emotional state is to have good posture.  Good posture has one of the highest returns on investment of any simple leadership hacks.  Compared to the effort required to make the change, the payoff is tremendous.
Good posture improves our energy levels, brain function, and personal image, while simultaneously reducing stress.
Although in the short term it seems a lot easier to slouch, it actually takes a lot more energy to slouch than it does to have good posture.  This is because when our spine is erect, we're only using a few small muscles to keep it erect and the weight of our upper body is supported by the spine itself.  We're using bone instead of muscle.
One of the effects of having good posture is deeper breathing.  Try slouching for a second and notice how you breathe.  It's shallow and mostly in the chest, right?
Now try sitting with good posture.  Although the spine isn't rigid, it should feel as though a string is pulling us up by the crown of our head, and there should be a natural curve in the lower back.  Notice how with good posture we naturally breathe more deeply.  The breath originates in the belly and we take in a lot more air.
Breathing more deeply results in many health benefits, but I'd like to focus on three.  First, breathing more deeply results in more energy as the body gets more oxygen.  Second, because the brain is getting more oxygen, we are able to think better.  Third, when we breathe into the belly, we stimulate the vagus nerve, which counteracts stress by helping to activate the parasympathetic nervous system.
Another effect of good posture is having shoulders that hang more naturally.  This helps us prevent tension in the neck and shoulders, which is where many of us hold a lot of tension, especially if we sit a lot during the day.
If you are practicing mindfulness (I hope you are), good posture has positive effects on that as well.  When we slouch, we are much more likely to be pulled into our thoughts and emotions.  It is much easier to be aware of our thinking and emotions when we have good posture.  Mindfulness also has a positive effect on posture, as we are much more likely to be aware of our posture if our practice of mindfulness in activity is solid.
Yet another effect of good posture is increased feelings of self confidence and appearing more confident and more attractive to the people around us (don't team members deserve to have an attractive, confident leader?).  You can observe this quite readily both in yourself and others.  How do feel when you're slouched?  How do you feel when you stand or sit up straight for 30 seconds or so?  How do you perceive others who are slouched versus those who walk, stand, and sit with good posture?
Stand Up!
If you spend a lot of time at a desk, the easiest way to immediately improve your posture during much of your day is to stand up.  It is almost impossible to stand for very long with bad posture, so this simple move essentially forces us to have good posture.
This doesn't necessarily require an investment in a fancy standing desk or treadmill desk.  In my home office I simply put my laptop on top of a box that elevates the keyboard and mouse to about elbow level.  This is not only inexpensive and instant, it also made it easy to switch between standing and sitting when I first started standing while working. (Here are some other ways to make your own standing desk.)
Working at a standing desk helps us realize the benefits of good posture mentioned above and therefore better serve our teams.  Spending less time sitting also helps us in several others ways.
Prolonged sitting is now considered by many health experts to be as harmful as smoking.  Too much time sitting is linked to increased risk of certain types of cancer, increased risk of heart disease, obesity, and type 2 diabetes, and even higher risk of depression.
As Dr. James Levine, director of the Mayo Clinic-Arizona State University Obesity Solutions Initiative, was quoted saying in an interview with the Los Angeles Times, "Sitting is more dangerous than smoking, kills more people than HIV, and is more treacherous than parachuting.  We are sitting ourselves to death."
Taking Action
In addition to committing to working at a standing desk and sitting, standing, and walking with good posture, you might find it helpful to set some reminders for yourself regarding having good posture, and/or to tell someone that you are working on having better posture so that person can help remind you when you're slouching.
I'd also like to hear any creative ideas you may have for incorporating good posture into our daily lives.
______
Did you like what you read?
You can sign up here to get all my posts via our free eZine, which is full of great articles on personal and leadership development.  You'll also get a $15 eBook for free.