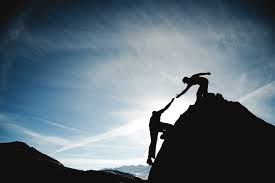 In Serve to Be Great, and in a recent post on this blog, I wrote about the importance of "measuring the right things."
The best leaders over the long term tend to place equal or greater emphasis on measuring the degree to which they serve and care for team members than the emphasis they place on numbers.  These leaders realize that by serving and caring for the people on their teams, they are helping to ensure that the numbers are taken care of.
Of all the metrics we could establish for how well we serve and care for team members, one of the most impactful is the growth of our team members.
At a strategic level, a metric could be as simple as asking the question, "How much did the person on my team grow professionally and personally, as a result of working on our team?"
Upon further reflection, it seems as though getting this aspect of leadership right would influence every other metric in a positive way.
When growth is a metric, each of the following are taken care of:
We inspire a person to achieve excellence and we help them to achieve it. Thus, we facilitate the individual's peak performance.
We develop the spirit of teamwork, which helps the team achieve better performance.
We help the person develop personal qualities that will ensure their success both with our team and beyond; qualities like kindness, patience, compassion, empathy, and good listening.
In short, we work to help the team member become the best version of herself that she can possibly become, and this is a win-win-win-win.  This benefits us, her, our organization, and our community in general.
This approach also builds trust and loyalty.  Imagine working for a boss who cares just as much, or more, about you and your growth as a person as she does about what you can produce for the team.  Isn't that someone for whom you would go the extra mile?
Tactically, the metric of growth becomes a little more challenging.  Measuring growth isn't incredibly easy.  Also, we can't make a person grow.  We can only facilitate the process.
A good exercise to help with this effort is to sit down and think of all the areas where the team member could grow both personally and professionally.  I recommend focusing on areas where the team member is strong and leveraging those strengths to help bring any areas of weakness up to the point where the team member could at least be average in that area.
The next step would be to discover what's important to the team member and where he wants to go in both the short and long term, and both personally and professionally.  If you've already conducted the "How can I serve you?" meeting, you already have this information.
Once we know what's important to a team member, and where he wants to go, we can construct both a plan and metrics for helping the person grow in the areas he'll need to grow in to accomplish his goals.  It will also be much easier to align any areas of growth we would like to see with what the team member values.  If we combine this with involving the team member in building a plan for development, we can achieve a lot of buy in, which is essential for success.
Please leave me a comment below if you apply these ideas.  I'd love to hear about your experience.
______
Did you like what you read?  You can sign up here to get all my posts via our free eZine, which is full of great articles on personal and leadership development.  You'll also get a $15 eBook for free.