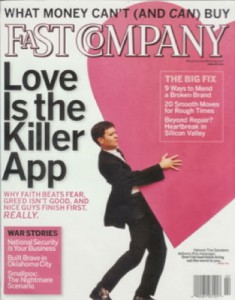 This book is incredible! After reading it, I immediately incorporated concepts and practices from the book into my personal life and my professional life.
When Tim wrote the book, he was the chief solutions offer at Yahoo!. He achieved this executive position in a top company relatively quickly, employing the concepts and practices he wrote about in Love Is the Killer App.
Instead of following the stereotypical corporate path of doing whatever it takes to get ahead, even at the expense of others, Tim followed a path of kindness and service. This resulted not only in quickly achieving an executive position at Yahoo!, but in building a network of interpersonal connections that staggers the mind, which in turn resulted in him getting his first book deal and becoming a highly sought-after public speaker.
In Love Is the Killer App, Tim shares incredibly practical tools for building a personal brand that will set you apart from the crowd and significantly increase the value you can add for other people, potential employers, and potential business partners.
He suggests an approach of selfless giving as the secret to accomplishing this. However, he focuses on giving things that are valuable but intangible, and thus sustainable, meaning you can give them freely to as many people as you meet without ever running out of your resources for helping.
Which intangibles? Your knowledge, your network, and your compassion.
Tim gives very practical suggestions for increasing your level of knowledge and effectively sharing it with others, effectively growing your network of personal connections and freely sharing it with others, practical ways for caring for people that enrich your life and strengthen the connections in your network. Tim makes it very easy to see how sharing these assets not only makes your life more enjoyable, but how doing so adds so much value to your personal brand.
This book is very well written, fun to read, and will leave you feeling inspired and prepared to achieve true success. I highly, highly recommend Love Is the Killer App.
As a result of Tim's status and success, he has been able to make compassion and kindness in the business world credible. His work has already been and will continue to be very helpful for my efforts to teach people in the business world practices that help us develop kindness, compassion, and empathy, as he makes it clear how effective people with these abilities prove to be.
Be Love,
Matt
CLICK HERE
to learn more about the eBook, featuring chapters from John Spence, Jeff Klein, Charlie Kim, Michael Carroll, Ted Prince, David Marquet, and Ben Lichtenwalner.