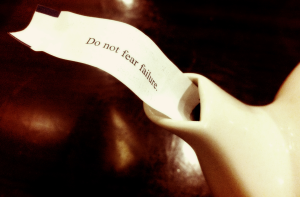 In the early 1900s, a metallurgist named Harry Brearly began working on a project to improve the barrels of rifles. The inside of rifle barrels are grooved to cause the round to spin, which improves accuracy. But the steel barrels of Brearly's day seem to wear down quickly as a result of the friction between the round and the barrel.
Brearly believed that he could combine different metals with steel to create an alloy that would be more resilient to the friction. He experimented over and over again, until he ended up with a heap of scrap metal that hadn't proven to be any more resilient to wear than the current barrels of the day.
Several months after experimenting with one particular combination that included 12% chromium mixed in with the steel, he noticed something a bit peculiar. While all the other samples of metal had rusted, the steel / chromium combination had not. One of his failures eventually become what we now call stainless steel.
It seems that we are conditioned by many elements of our society to hold on tightly to the notion that failure and mistakes are bad, and should be avoided. Thus, most people fear failure, especially in the workplace. They are worried that if they fail, they will never advance, or perhaps even be fired.
As leaders, a simple way to serve our team members is to give them permission to take risks and fail, and to even encourage failure.
By creating an environment where there is less fear of failure, we improve the well-being of the team members. In addition to simply being the right thing to do, this also improves the performance of teams in many ways, like reducing sick days, improving emotional intelligence, and improving decision making.
A Key to an Innovative Culture
Encouraging failure is also absolutely essential if we want to have an innovative culture. People tend to think of innovation as creative ideas that are immediately implemented as they were conceived, resulting in some breakthrough product, service, or internal solution.
This almost never happens. Most innovations began with one idea, which a person and/or team began turning into reality, which was then changed countless times before the actual winning solution was discovered. Or, the innovation was the result of a failed attempt to solve one problem that solved another, entirely different problem, as we saw above with the "invention" of stainless steel.
Thought experiments can be helpful, but nothing provides better learning than actually making something and trying it out. This is the core idea of essentially every highly innovative organization. As it's stated at Google, "Launch early and iterate often."
If we want to create a culture where people feel safe to work on projects that challenge the status quo, and are likely to fail, we need to let people know that we expect them to do that. Even more important, we need to back up that expectation by accepting people's failures. The moment we punish failure – even with something as simple as our body language – is the moment innovation starts to die in our organization.
Of course, the suggestion is not to allow repeated mistakes in the performance of basic job requirements. That is a recipe for mediocrity. The suggestion is to encourage people to go beyond their minimum job requirements and try new things that challenge status quo.
We may initially think of the idea of providing time for experimentation of new ideas as an expense. I think this is a mistake. We should look at it as a great investment. Even if only one idea out of ten eventually becomes a product or service that adds greater value to our customers than our competitors can offer, the return on that investment would likely be tremendous.
Soichiro Honda, the founder of Honda Motors, put it this way, "Many people dream of success. Success can only be achieved through repeated failure and introspection. Success represents the one percent of your work that results from the 99 percent that is called failure."
______
Did you like what you read?
You can sign up here to get all my posts via our free eZine, which is full of great articles on personal and leadership development.  You'll also get a $15 eBook for free.