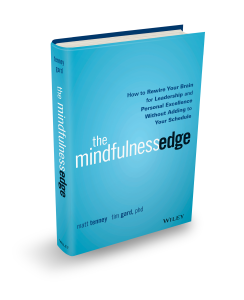 Click Here to Watch the Video Trailer (45 seconds)
PLEASE NOTE THAT WE'VE FILLED UP OUR TEAM AS OF 9 DECEMBER 2015 AND ARE NO LONGER ACCEPTING NEW LAUNCH TEAM MEMBERS.
Would you like a free copy of my new book, The Mindfulness Edge?
We're giving away 200 copies to our special Launch Team.
Below, you'll find an overview of the book, and instructions on how you can receive a free copy and be part our Launch Team.
_______________________________________________________________
How to Receive A Free Copy of The Mindfulness Edge
To receive a free copy of The Mindfulness Edge, all we ask is that you do the following:
1)  Help us spread the word the week of 29 February – 4 March, 2016 by sharing your unique link to our book launch promotion via social media and e-mail (click this link to see how it will work).
You would skip right to Page 3 of the promotion and be considered to have purchased the book in the promotion, so you will be eligible for all of the $100s of rewards for referring friends without having to actually buy the book.
2)  Sometime in March, 2016, we ask that you post an honest review of the book on Amazon, Barnes & Noble, and Goodreads.
3) If you apply and are accepted to be part of the "Advance Copy Team" on the form below (the link is in #4), we ask that you read the advance copy prior to 4 March, 2016 and post a review on Amazon, Barnes & Noble, and Goodreads the week 7-11 March, 2016.
PLEASE NOTE THAT WE'VE FILLED UP OUR TEAM AS OF 9 DECEMBER 2015 AND ARE NO LONGER ACCEPTING NEW LAUNCH TEAM MEMBERS.
_______________________________________________________________
Overview of:
The Mindfulness Edge: How to Rewire Your Brain for Leadership and Personal Excellence Without Adding to Your Schedule
There is a simple practice that can improve nearly every component of leadership and personal excellence and it doesn't require adding anything to your busy schedule. In The Mindfulness Edge, you'll discover how a subtle inner shift, called mindfulness, can transform the things you already do every day into opportunities to change your brain in ways that improve both the "hard skills" and "soft skills" of leadership.  A large body of research in neuroscience suggests that with mindfulness training, you can actually "rewire" your brain for leadership and personal excellence, while also becoming happier.
In this book, you'll learn how mindfulness training helps you:
Quickly improve business decisions
Become more innovative
Develop the emotional intelligence skills essential for creating and sustaining a winning team culture
Realize the extraordinary leadership presence that inspires greatness in others
Live a happier, more meaningful life
Advance Praise for The Mindfulness Edge
"This is an extraordinary book!  The Mindfulness Edge will help you take advantage of your greatest strategic asset: your mind.  This book offers a practical path to mastering your mind – and changing your brain in ways essential for effective leadership – with one simple habit.  Develop this habit and you will not only be more successful both professionally and personally, you'll be more fulfilled as well."
Skip Prichard – President & CEO, OCLC, Leadership Insights blogger at skipprichard.com
"I thoroughly enjoyed this valuable book.  Matt Tenney and Tim Gard show quite clearly how mindfulness can transform everyday activities into opportunities to change our brains in ways that improve essential leadership skills.  They also offer a practical, enjoyable path to consistently being the leaders we aspire to be."
Bob Hottman – CEO, EKS&H
"This is a game-changing book. Based on cutting-edge research and illuminated by real-world examples and practical guidance, The Mindfulness Edge can take your business acumen, leadership skills, and personal growth to a higher level.  I have read roughly 2,000 business books and this one is now in my top 10."
John Spence – Named one of the top 500 leadership development experts in the world by HR.com
"I found this book very insightful. It serves as a practical training manual for improving self-awareness, and shows how self-awareness impacts nearly every aspect of leadership.  This book will not only help you to be a better leader, it will also help you to enjoy the journey."
Gregory A. Serrao – Executive Chairman, American Dental Partners, Inc
"In The Mindfulness Edge, Matt Tenney and Tim Gard present – in an engaging and inspiring way – a practical method of 'strength training' for the most important 'muscle' in your body: your brain. This insightful book is a game plan on how to apply mindfulness training to create the self-awareness and mental agility needed for impactful leadership. This is a must-read for any leader looking to raise the bar of excellence, while also becoming happier!"
Chris Thoen – Sr.  VP, Global Head Flavour Science + Technology, Givaudan Flavours Corp.
"I truly enjoyed this book!  The applications and narrative herein apply not only to leadership but also to life.  With readable and to-the-point information on mindfulness backed by rigorous neuroscience, I strongly recommend The Mindfulness Edge to people new to the practice and to people with a long-standing interest."
Tara Swart, M.D., Ph.D., CEO, The Unlimited Mind, Senior Lecturer, MIT Sloan, and Author of Neuroscience for Leadership
"I recommend The Mindfulness Edge to leaders of all types.  The book offers a path to self-mastery through mindfulness and guidance for applying that self-mastery to enhance the effectiveness of your employees and company, thereby more positively impacting your clients.  The authors explain the practice in great detail, inviting reflection along the way, and show how mindfulness training can be easily integrated into daily routines with a measurable impact on your home, social, and business worlds."
Rick Staab – CEO, InterMed
"If you want one book that dives deeply and eloquently into one of the single best ingredients for a healthy and effective brain, The Mindfulness Edge is it. Matt Tenney and Tim Gard pair up to give spot-on insights that will unleash some awesome things already hanging out in your head. Bathe your brain in this book and get ready to find a whole new you."
Scott G. Halford — Executive Educator, National Hall of Fame Speaker, and author of Activate Your Brain
 "The brilliance of The Mindfulness Edge is that it deviates so significantly from the status quo.  Rather than merely add to the cacophonous volume of information and advice that overcrowds our mental faculties, this book offers practical, achievable guidance on how to skillfully embrace the chaos and complexity of today's business environment so that we can uncover truly innovative solutions on our own."
Martin Sirk – CEO, International Congress and Convention Association
"As the business and investment worlds tentatively shift their focus away from short-term transactions towards longer-term relationships, we need excellent leaders to strengthen this trend: Leaders with the skills to align our corporations and institutions with the needs of society, the economy, and the environment. The Mindfulness Edge is a timely and practical guide for those aspiring to this task."
Colin Melvin – CEO, Hermes EOS
"The Mindfulness Edge offers a fresh and highly-practical approach to mastering mindfulness and creating inspiring, mindful workplaces."
Michael Carroll – Author of The Mindful Leader
"Matt Tenny and Tim Gard haven written the first, really practical, neuroscience-based guide for enhancing leadership performance through mindfulness. You can start rewiring your brain now!"
Wibo Koole – Director Centrum voor Mindfulness, Amsterdam, and bestselling author of Mindful Leadership: Effective Tools That Help You Focus and Succeed