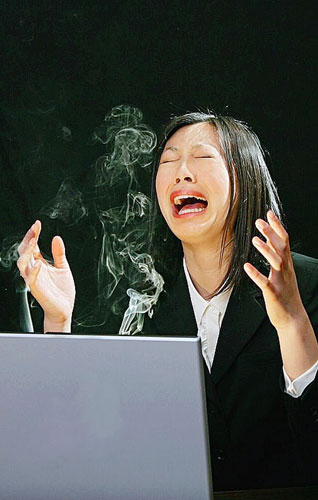 While running one morning with my friend Natalie, we came up to a cross street that enters a major road off to our right. As we approached, we noticed an SUV coming towards the stop sign. I was a little ahead of Natalie and, aware that many people don't actually stop at stop signs, I slowed my pace to see if the SUV was going to stop. Once I noticed that she was going to stop, I proceeded to run through the cross walk. I noticed that there was a woman driving and a man in the passenger seat.
The woman who was driving the car looked a little perturbed as she came to a stop. As we cleared the cross walk, I commented laughingly to Natalie, "Wow, she seemed a little bothered by doing what she was supposed to do anyhow. Pretty funny hey?" Some moments later, Natalie shared something very wise that I think is definitely worth sharing here.
Natalie said, "When I saw her reaction, I tried to imagine what might be going on for her and the person in the car. Maybe she wasn't upset with us, but upset with her companion, or her lack of attentiveness to driving, or just having a bad morning in general."
Many people would find it very easy to respond with anger or unkindness to someone who does something that we find irrational or offensive. But Natalie immediately related to the woman with empathy. She is such a wise soul.
My experience has been that relating to situations in this way is incredibly empowering. When we respond to a frustrating situation with empathy, we are able to feel kindness and compassion, which give rise to numerous positive effects in the body. Conversely, when we respond with anger or unkindness, our energy is drained, we add stress to our day, we damage our bodies with stress-related hormones, and we might even do something that we regret later.
The practice of
mindfulness
helps us to be able to take advantage of all the wonderful benefits of empathy. The more effort we put into being aware of and kindly accepting our natural reactions, the easier it is to choose to not follow our habitual ways of reacting, and to instead make the conscious choice to do what is much more beneficial for us.
When we catch ourselves reacting to a situation with frustration, anger, or unkindness, the practice below may help. I used to be very diligent with this practice and found it so empowering. Thanks to Natalie's wonderful reminder, I'll begin employing this with more diligence again.
1) Simply recognize and accept the fact that we are reacting according to our habits.
2) Aware of the thoughts and feelings in the body, choose to respond in a more beneficial way by reciting the following verse. "Breathing in, I'm aware of my reaction. Breathing out, I will respond in a way that is helpful and kind."
Just

CLICK HERE

, and I'll send you this eBook, featuring chapters from John Spence, Jeff Klein, Charlie Kim, Michael Carroll, Ted Prince, David Marquet, and Ben Lichtenwalner.