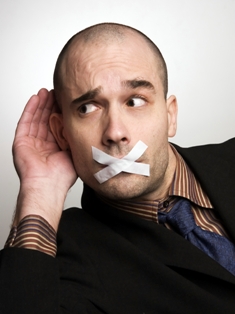 We often think of great leaders as being those people that can get up in front of a group and inspire them with their words. This may be effective in the short term, when the group is new or the leader is new. But leaders who excel over the long term know a simple secret that is quite contrary to the popular leader archetype of being a dynamic speaker.
Great leaders listen first.
Applying this has been very challenging for me. My natural of way relating to others is this kind of arrogant belief that I have all the answers, and I can help everyone by giving them those answers. From this basic starting point, I naturally tend to want to listen very little so I can get on to telling people what I think. Do you ever notice this in your own life?
During my time living and training as a monk, one of the practices I took on was to talk very, very little. The general practice was to speak only to greet people and ask them questions about themselves. I would not say anything about myself or state any opinion or view unless I was directly asked to do so.
One of the effects of this practice is that my mind gradually became much more calm and peaceful. I also noticed that people seemed to enjoy talking to me much more! When we focus more on listening than on talking, we might find that despite saying very little people say of us, "Boy that so and so sure is a great conversationalist!"
There are countless reasons why listening first is so important as leaders. Below are just a few:
Increases trust, which is vital for effective leadership
Helps people to feel truly cared for, which improves engagement, retention, creativity, and innovation
Develops future leaders by encouraging our people to think through problems versus getting the answers from us
Helps us to leverage the intelligence of our people more because they are more likely to speak up if we haven't offered our opinions and views first
Helps us to develop greater mental agility, perhaps the most important trait for today's managers, by letting go of our conditioned thought patterns
Do you listen first? What are some tools you are applying to be a better listener?
CLICK HERE
to learn more about this eBook, featuring chapters from John Spence, Jeff Klein, Charlie Kim, Michael Carroll, Ted Prince, David Marquet, and Ben Lichtenwalner.