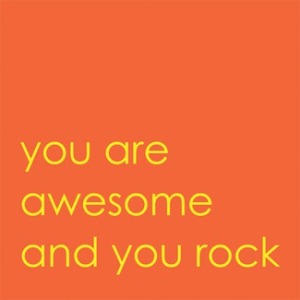 One of the deepest human needs is to feel appreciated.  According to William James, in fact, "The deepest craving of human nature is the need to be appreciated."
When we appreciate others sincerely, we give them something that they may rarely if ever receive in their lives.  We're providing a wonderful gift.
Appreciating team members for meeting or exceeding expectations for performance or behaving in according with stated values is also one of the simplest ways to boost performance in the workplace.
According to a great article on Business News Daily, research conducted by the HR firm Bersin & Associates suggests that companies that do very well at recognizing employees are about 12 times more likely than their peers to realize positive business outcomes like higher profitability and better market leadership positions.  Also, in companies with strong recognition programs, employee engagement, productivity, and customer service are roughly 14 percent better than in companies that do not reward and recognize employees well.
As an added bonus, when done well, recognizing and appreciating team members costs very little, or nothing at all.
Effective recognition programs ensure that everyone who meets or exceeds expectations is recognized, and that the recognition occurs as close to the time of the achievement as possible.
With one minor addition to the mix, we can make our efforts to recognize team members even more effective.  We can transform appreciation into an art.
In my blog post last week, we discussed the "How can I serve you?" meeting and some of the questions we might ask during that meeting to show a team member that we truly care about her or him, and to gather information that will help us to serve that team member in the future.
An additional question we can ask is, "If you were to do something that I really appreciated and I wanted to thank you for it, what are some ways that you'd like to be appreciated?"
This question is another powerful way to show that we truly care about the person on our team.  It also helps ensure that we offer appreciation in a way that the person would actually like.  This is very important.
Imagine, for instance, that we wanted to recognize a team member, and she is an extreme introvert.  But we just recognize her in the same way we've always recognized.  We bring her up in front of the whole team and show her picture and ask her to say a few words.
For an extreme introvert, this might be more like punishment than a reward.  She might much prefer some simple words of appreciation in private and a day off to have some alone time in nature.
In the excellent book The Carrot Principle, Adrian Gostick and Chester Elton write, "Perhaps the most difficult portion of the recognition process is choosing a form of recognition that taps into an employee's motivation triggers."
When we tailor our efforts to show appreciation to be aligned to each of our team members, we can have a huge impact.  As Gostick and Elton continue, "Among the leaders we have observed who take the time and interest to personalize recognition, it has made all the difference in employee performance."
One of my favorite examples of really well-thought-out appreciation, based on true understanding of what a team member values, is how my good friend John Spence recognized a team member who valued family more than anything else in her life.
When John wanted to show deep appreciation for her excellent performance, he wrote a letter to her family, describing in detail why their mother / wife was such an amazing human being and such a valuable member of the team.
This may have been the most powerful appreciation she had ever experienced, and likely had a significant impact on her continued performance.  The cost to John and his company was nothing but 10 or 15 minutes of time.
More important than the nice ROI, though, is that both John and the team member received a great deal of fulfillment from that experience, fulfillment they both likely remember to this day.
Please leave me a comment below if you apply these ideas.  I'd love to hear about your experience.
______
Did you like what you read?  You can sign up here to get all my posts via our free eZine, which is full of great articles on personal and leadership development.  You'll also get a $15 eBook for free.