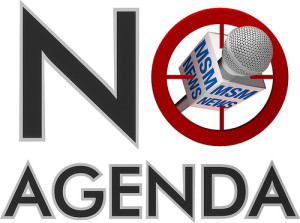 Often times, I find myself heading into a meeting with other people with a very fixed agenda regarding what I'd like to see accomplished as a result of the meeting and, in many cases, ideas for how to achieve that goal.
I'm much more aware of this tendency than I used to be, but I still catch myself attaching to my agenda.  This can be quite problematic.  During team meetings, attaching to an agenda can close us down to the ideas of others, limiting the possibilities of what we can achieve.
However, creating as much space as possible for building a shared vision of the future fuels engagement around that vision, and increases and leverages the intelligence of the team.  Allowing team members to come up with their own solutions for how to achieve the shared vision further increases buy in, engagement, and accountability.
Of course, when meeting with a team, it is useful to have a reason for meeting in most cases.  In fact, it seems that many organizations have too many meetings without clearly defined objectives, and end up wasting a lot of time as a result.
What I am working on, and what I believe would be of great benefit to other leaders, is to:
Drop my agenda for how we accomplish a goal
Have more one-on-one meetings with no agenda whatsoever
Letting Go of the "How"
I'm working to be better at dropping my agenda for how a goal is accomplished.  One of the key traits I've noticed in the most successful leaders over the long term is that they are extremely comfortable creating a shared idea of "what" needs be done, and leaving the "how" completely up to the team member.
As I mentioned above, the results are higher levels of engagement and accountability, and also higher levels of fulfillment.  People tend to enjoy work much more when they have a greater sense of autonomy.
Meeting Just to Meet
My natural tendency for arranging a meeting with someone is to only arrange meetings when there is a clear idea of what we will get done as a result of the meeting.  I realize more and more, however, that although "getting things done," is certainly important, it is not as important as developing and strengthening relationships with people.
I've noticed that life is certainly more fulfilling when I put people ahead of worldly accomplishment.  This also tends to be a more effective way, especially over the long term, to achieve worldly goals.  Nothing can be accomplished without the help of others.  No business survives without happy, loyal customers, and it's almost impossible to keep happy loyal customers without happy, loyal employees.  We can't even bring a strategy to life without people executing it.
Although I'm aware that building better bonds with people is certainly an important element of effective leadership, my goal in taking more time to meet with people just to meet is simply to enjoy connecting with another person in a purely human sense.  There is no agenda other than to simply be there as a friend and share time in a way that has nothing to do with work.
I don't know if there is a magic ratio of how many purely personal meetings we need to have to counterbalance the work-related meetings.  (Do you know of such a ratio?  If so, please let me know.)  I think it's important to just start somewhere, though, so I try to have such a connection with team members at least once every two weeks, and more often if there is something going on in a team member's personal life that is challenging.
How often do you schedule one-on-one meetings with team members, or a group meeting, where there is no agenda other than to have a shared experience as human beings?
______
Did you like what you read?
You can sign up here to get all my posts via our free eZine, which is full of great articles on personal and leadership development.  You'll also get a $15 eBook for free.